Do you have a maintenance project we can help with?
Engineering: Retrofit of HVAC Systems and Technology Equipment
Replacing an entire existing HVAC system can be costly, and the return of investment could be questionable. Retrofit projects integrate new components into existing HVAC networks and provide a more cost-effective way to improve performance without having to replace the entire system.
Are your operational costs escalating without any logical explanation?
In Amperia we design retrofit engineering projects for HVAC systems. The most common considerations for the HVAC system retrofit project are:
the HVAC system is at the end of its life (10+ years),

poor performance or is too noisy,

day-to-day operation is not reliable and safe,

poor technical condition,

not compatible with new technologies.

Energy bills are escalating without any logical explanation.

Repair costs are continually rising.
If it is not necessary to replace the whole technology, only some of its parts, we are talking about a retrofit. However, this procedure would not be possible without a thorough evaluation of the technical condition of the installation.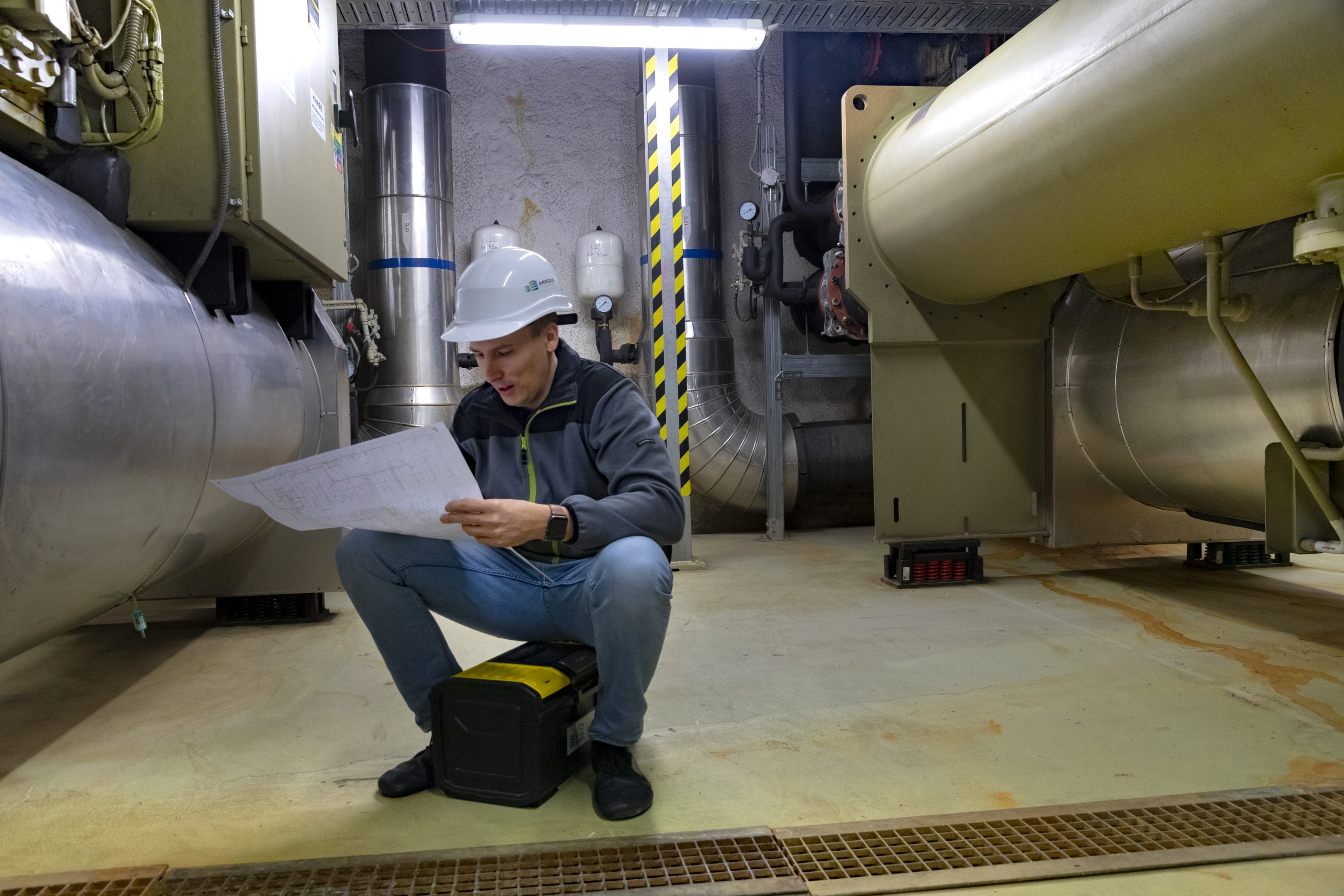 Passportization of technological equipment
Summarizing the technical documentation can be sometimes tricky with respect to the history of preventive maintenance or installation changes in the project documentation. Generally, we try to put together all documentation available to the technological equipment. We may talk about operational as well as project documentation, but also repairs and additional implementations on the technology. 
We evaluate the approach to the preventive maintenance
During passportization we analyse the way the technological equipment was operated, which includes servicing, expert inspections, and tests, fire protection, or other operating and preventive maintenance activities given in legal regulations. These factors have a significant impact on the lifetime, reliability or energy efficiency of the technology.
Getting to know the new technological project may bring many questions or improvisation challenges in some cases. That is why we try to hold close communication with the client and always reviewing its visions. The technology equipment requiring retrofit is mostly at the end of its service life and/or in poor technical condition. We often encounter the problem of poor access to technology or the lack of technical documentation.
Passportization results to the following output:
audit of technical documentation,

preventive maintenance schedule,

measuring and analyzing the efficiency of old technology,

budgeting of the retrofit activities,

return of investment evaluation.
Budgeting the retrofit activities
The budget for technology modernization depends on several factors. In addition to the actual passportization, we are always challenging ourselves with the following questions:
Is it sufficient to replace a component or is it worth replacing the entire technology?

What is the return on investment of retrofit with comparison to complete technology exchange?

What are the energy and operating cost savings of a new solution?

Is the technological equipment accessible for installation activities?

What will be the dismantling and assembly plan? How to minimize its impact on building operation and client comfort?

How to implement a retrofit to ensure that all requirements for workers and client's safety are fulfilled?

How to realize a retrofit with minimal environmental impact?

How to choose a reliable supplier in terms of implementation and reliable long term servicing cooperation?
Benefits of retrofitting with us
Individual approach and added value. We will design the best possible solution with respect to individual project needs and operational cost savings. We do our best to minimize the limitations on the building operation and not affect the comfort of people in the property. The realization of the retrofit is about mutual cooperation and a detailed understanding of the client's needs and vision. We will prepare for you:
project documentation for dedicated technical equipment electric, gas, pressure, and MaR,

protocols for determination of external environmental influences,

documents for proceedings with public administration.

We will represent you in proceedings with the public administration.
It may not be easy to select the right supplier and manage the project till the happy end. Thanks to our extensive experience in supplying activities, we can design a custom-made solution for you and cover the selection and management of suppliers.
Let's start a new project together
Customer's vision comes first in Amperia. We always listen carefully. Then we look for solutions that make sense and you can afford them.
Are your operational costs escalating without any explanation?
Contact us and see what upgrades we have for you.